Project Name: Building Operating System Suite
Project Start Date: 2021-12-03
Project End Date: 2022-01-26
Project Duration: 45 Business Days
B.O.S.S deploys digital technology to create sustainable living conditions for residents in a building and enhance their satisfaction and retention by achieving resource efficiency. It smartly controls and automates parameters such as waste, energy, water, building security, etc. This smart suit of solutions aims to create the first sustainable, multifamily building in the housing industry, and provide sustainability certifications for integrated buildings within the platform to promote green living and improve resident satisfaction.
The absence of a system that measures and collects real-time data about energy & water levels, waste containers, connected devices, thermostats, etc.
A smart building requires scalable systems and interoperable solutions to integrate connections across the building's data.
It was crucial to establish sustainable active energy management, resilient security, and an operational dashboard.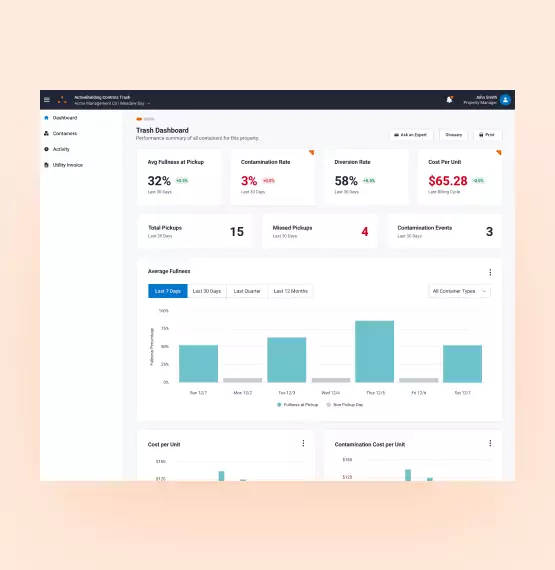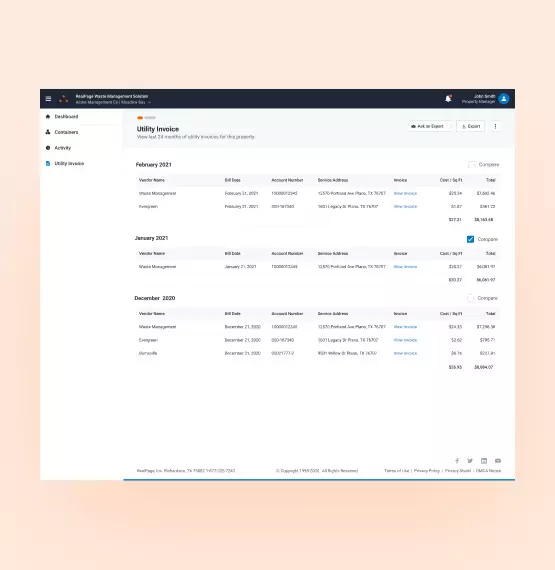 The Smart Waste solution drastically reduces the cost of managing waste and recycling programs. By deploying Artificial Intelligence (AI) and smart cameras at each dumpster at the property, the solution generates actionable alerts and accurate analytics about the waste cost per unit, contamination fees, recycling diversion ratios, etc at the property.
The Smart Energy application combines intelligent energy meters, devices, and thermostats with a powerful analytical engine that alerts property managers and owners of any energy loss, excessive usage, costs, and instant system issues. The solution also provides in-depth analytics and detailed recommendations for energy performance improvements, and cost reductions.
Smart Water leverages new IoT submeter technology to help multifamily properties drastically reduce the cost of water consumption in both common areas and residential units. With features for quickly detecting and notifying site teams about leaks and consumption problems, property portfolios will experience significant annual savings while also enjoying greater visibility into those parts of the property (e.g., landscape irrigation and pool systems) that are not typically metered.
A testing and research-based approach were followed by the team to create meaningful solutions for each parameter and ensure seamless connectivity to all boards controlling the building.
A complete Smart Sustainable Solution suit was developed successfully with unique functional features leveraging submeter technology to help multifamily properties drastically reduce the cost of managing waste, energy, and water in their residential spaces.
Building Operating System Suite is expected to be implemented soon in smart buildings.